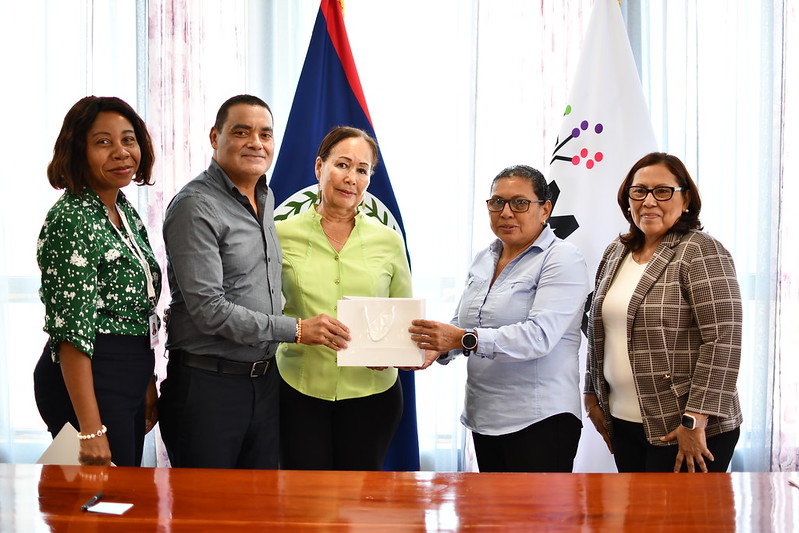 The Hon. Francis Fonseca, Minister of Education, Culture, Science and Technology, signed an agreement with Ms. Leticia Westby, President of the Ariel Rosado Foundation. Through the agreement, the Ministry of Education, Culture, Science and Technology (MoECST) pledges to support the work of the foundation by providing a total of six scholarships for deserving Belizean youths to pursue their education at the post-secondary level.
Five scholarships will take the form of assistance with tuition and fees for students at the junior college level and one scholarship will take the form of assistance with tuition and fees for a student to attend the University of Belize for an associate's degree.
In his brief remarks, Minister Fonseca express his elation in supporting the philanthropic work of the foundation. He also commented on the history, purpose and work of the foundation and on the legacy of its namesake, Ariel Rosado. For her part, Ms. Westby conveyed her gratitude to Minister Fonseca and the MoECST for supporting the foundation. She further commented on the positive impact this agreement will have on the lives of the scholarship recipients.
The Ariel Rosado Foundation was established to commemorate the life of an outstanding Belizean youth who lost his life in a traffic accident three weeks after completing his twenty-eighth birthday. Ariel was a sterling role model for Belizeans of all ages inspiring many by example through his accomplishments in cycling and in education. The Foundation aims to raise and manage funds to provide scholarships and sporting opportunities for deserving Belizean youths and realizes this goal through corporate sponsorship, individual donations, individual and corporate pledges, fundraising through the annual Cross Country and by acting as a conduit to manage scholarships provided by individuals and corporations.
The signing of the agreement was witnessed by Ms. Yolanda Gongora, Chief Education Officer; Dr. Dorla Rosado, mother of Ariel Rosado; and Dr. Yvonne Palma, Director of the Tertiary Education Unit.
For more photos, please visit: https://flic.kr/s/aHBqjAyBsU